Annotated bibliography of the genocide of the Sinti and Roma
A project by the IHRA Committee on the Genocide of the Roma
This annotated bibliography of the genocide of the Roma was one of two short-term research projects commissioned in 2014 by the IHRA Committee on the Genocide of the Roma. 
The committee felt that essential information was not readily available, either concerning research into the genocide of the Roma or what other international organisations are doing in the field of education and remembrance of the genocide. Information on both was needed for the committee to be able to set its priorities for the coming years.
The second project resulted in the publication Roma Genocide: Overview of Organisations working on historical and contemporary issues, which gives insight into major international organisations and their programmes and initiatives to raise awareness of the genocide of the Roma and support commemoration. The aim of the committee is to work with international governmental organisations and civil society to increase knowledge about and commitment to commemorating the genocide of the Roma and to draw attention to the continuity of prejudice about Roma before, during and after the Second World War.
The committee has been very fortunate that the historians Ilsen About and Anna Abakunova agreed to take on the task of compiling the bibliography and writing an extensive essay on the main research themes covered. We are grateful to both authors for their dedicated work. However, the work is by no means at an end. The committee will publish the database of the bibliography online and give it a home where it will be kept up to date. On the basis of the annotations, an expert meeting is planned for 2016, to review the academic developments. It should lead to the mapping of future avenues of research and to possible future cooperation in the field.
The International Holocaust Remembrance Alliance (IHRA) was founded in 1998 by Swedish Prime Minister Gøran Persson. IHRA is an intergovernmental organisation of experts and governments to promote and maintain Holocaust remembrance in education, research and the culture of remembrance. The alliance, which has now grown to 33 member states, is committed to the 2000 Stockholm Declaration.
Since 2007, there has been a special working group dealing with the genocide of the Sinti and Roma. Since 2011, the Committee on the Genocide of the Roma has been an integral part of IHRA's work. The Central Council and the Documentation Centre of German Sinti and Roma have been represented by an expert in the German delegation since 2016.
More information on the bibliography compiled by Ilsen About and Anna Abakunova can be found on the IHRA website. The bibliography is available for download here.
Genocìdi e Sintenqo aj Rromenqo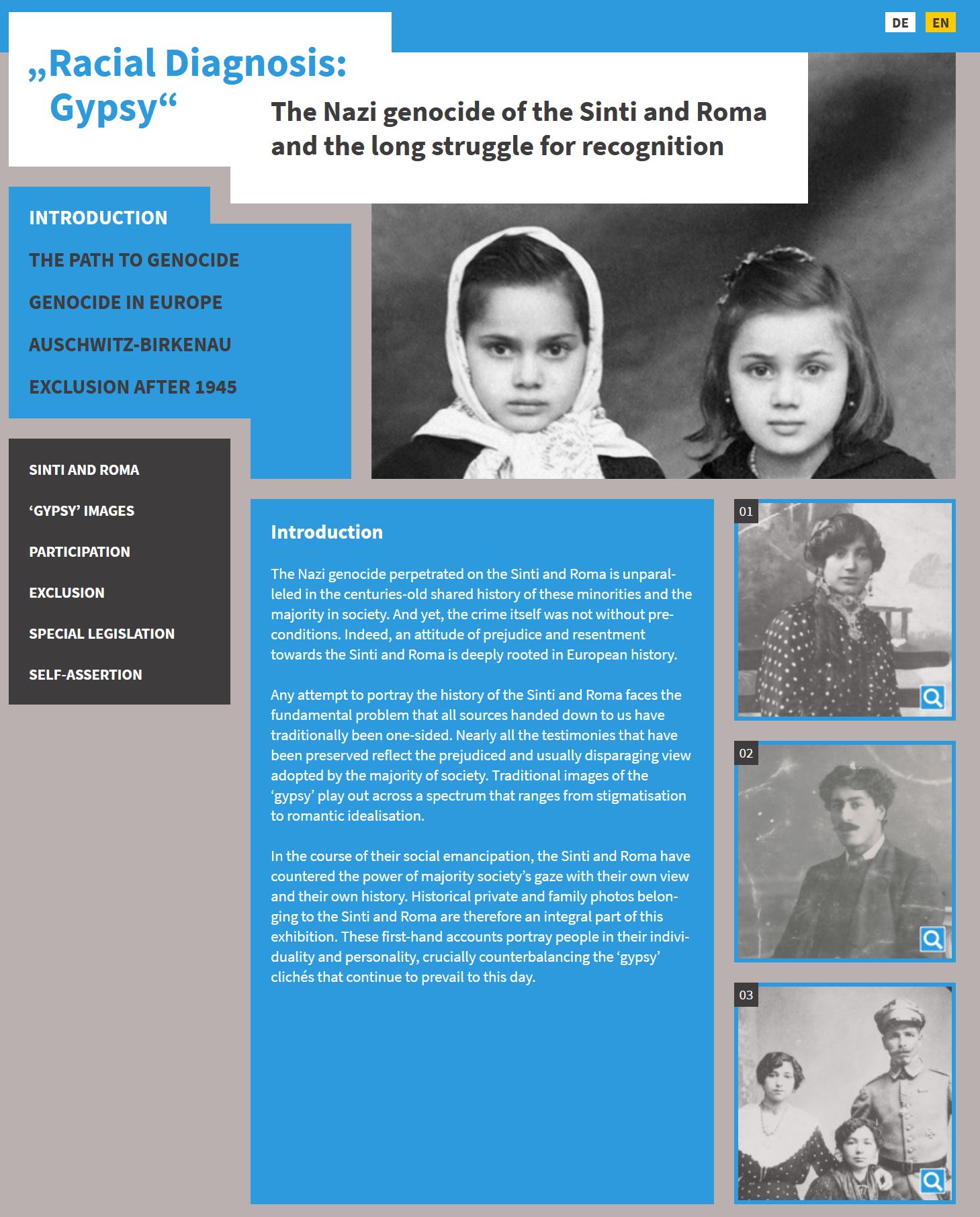 Online portal about the Holocaust of the Sinti and Roma