photo: Jaroslaw Praszkiewicz
"Zigeunerfamilienlager" ("Gypsy family camp")
Extract from "The Destruction of European Roma in KL Auschwitz: A guidebook for visitors"
According to the so-called "Auschwitz order" (Auschwitz-Erlass) issued by Heinrich Himmler on December 16th, 1942 "mixed Gypsies" (which means people who had even a tiny portion of "Gypsy blood", "Gypsies – Roma", and "Gypsies of Balkan origins") should be deported to KL Auschwitz. Himmler's order contained also a list of Sinti and Roma groups which should be exempted. Among the latter were "racially pure Sinti and Lalleri" (in connection with the assumption widespread among the Nazis that because the ancestors of Roma could have had contacts with the Aryans who once inhabited India, and could preserve in a degenerated form some Aryan features, the contemporary Roma who were "racially pure" should be studied).
Other groups to be exempted were Roma and Sinti who were integrated into society, had permanent employment and residence, were serving in the army or were married to "pure Germans." However, specific limitations of the order and the practice of the commissions which decided about deportations diverged from the general regulations. Local deportation commissions used Himmler's order as a convenient excuse to get rid of Sinti and Roma unwanted in their area of authority, regardless of which category they belonged to. In consequence, there were also "socially adjusted"persons in the deportation lists as testified in the accounts by the commandant of KL Auschwitz, Rudolf Höss, and an officer of the Political Department of the camp, Pery Broad, according to whom the criteria of exemptions were used at will and generally they were not respected because people who had a permanent address and regular job could be targeted and caught more easily.
In this way, in Auschwitz there were a certain number of Wehrmacht soldiers coming from assimilated or mixed families, a long-term member of the Hitler's party and an activist of the Association of German Girls from Berlin. This is how this situation was presented in an account by the former commandant of KL Asuchwitz, Rudolf Höss, produced after his imprisonment:
In consequence of the Auschwitz Order, more than 22,000 Roma and Sinti from Germany, Austria, Bohemia and Moravia and other countries were deported to KL Auschwitz. Most of them were murdered or died in the camp.
To receive people deported according to Himmler's decree, a special section of the camp, the so-called "Gypsy family camp" (German: Zigeunerfamilienlager) was prepared as the BIIe section of Birkenau. The camp was still under construction when the first transports started to arrive, thus the first prisoners were forced to work on its extension and furnishing.
The first transport sent to Birkenau in consequence of the Auschwitz Order arrived on February 26th, 1943. Only two months had passed therefore between the issuing of Himmler's order and its practical implementation.
Altogether, during the seventeen months of existence of the Zigeunerlager more than twenty-two thousand persons were deported to it, of whom twenty-one thousand were registered as prisoners of the camp. Most of them came from Germany and Austria – 13,108 (62.59 percent). The Roma deported from the Protectorate of Bohemia and Moravia formed the second biggest group – 4,380 (20.91 percent). 1,273 (6.08 percent) Roma registered in the camp were from Poland. 1,014 persons (4.84 percent) were "stateless", deported from the area of the Third Reich. 145 persons (0.69 percent) were Roma from France, 139 (0.66 percent) – from the Netherlands, 121 (0.58 percent) – from Belgium, while 126 (0.6 percent) came from the area of Yugoslavia. In addition, in the Zigeunerlager there were registered 34 Hungarian, 27 Russian, 22 Lithuanian, 20 Norwegian and 2 Spanish Roma. The citizenship of 532 (2.54 percent) Roma prisoners cannot be determined.
Sìnte aj Rroma and-o Auschwitz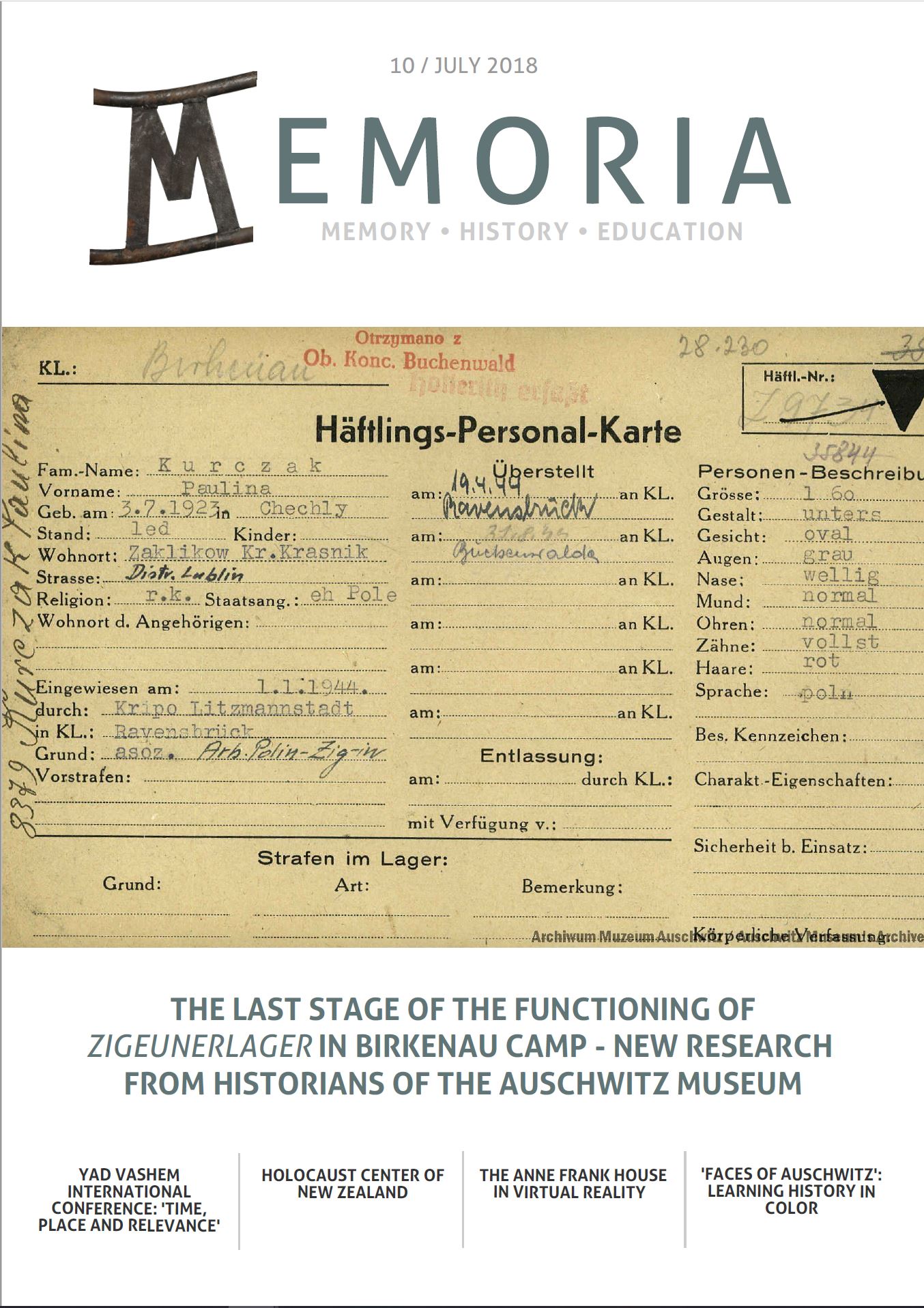 Recent research by historians of the Auschwitz Museum