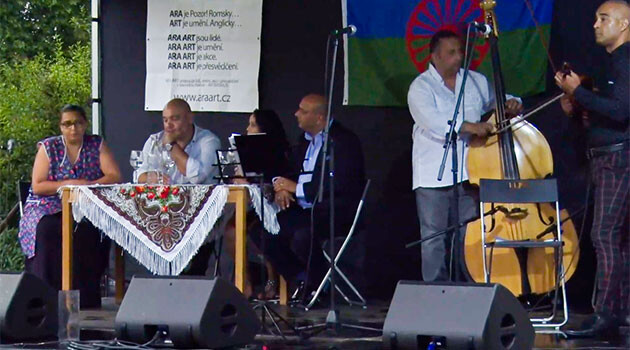 LIVE BROADCAST at 17:00 CET: "Leperiben: We Do Not Forget" – Prague ceremony honoring Romani victims of the Holocaust will include reading of their names
"Leperiben: We Do Not Forget", a commemoration of European Roma Holocaust Memorial Day, 2 August 2020 in Prague, Czech Republic. (PHOTO: ROMEA TV)
Today the third annual ceremony honoring the Holocaust of the Roma (Porajmos) will be held in Prague. During the evening program, organizers will be recalling the tragic events of 2 and 3 August 1944 when the fate of some of those imprisoned in the Auschwitz Concentration Camp was decided. 
The Nazis murdered the final prisoners of what was called the "Gypsy Family Camp" at Auschwitz-Birkenau on those dates. More than 4 000 Romani and Sinti people from 14 countries were murdered in the gas chambers.
The murdered prisoners were mostly children, elders, invalids, and women. On Náměstí Míru (Square of Peace) in Prague beginning at 17:00 today the event called Leperiben:  We Do Not Forget will take place. 
The evening will include songs that were sung in the concentration camps and a staged reenactment of the story of an eyewitness to the horrors of the Second World War, Dezider Daduč of Pozdišovce, Slovakia, one of eight testimonies in cluded in the book (Ne)bolí ("It Does (Not) Hurt"). This strong story conveys what life was like in a Romani settlement during the interwar period, during the Second World War itself, and in the postwar period and will be performed by the Slovak actor František Kudry, accompanied by the violin virtuoso Viliam Didiáš and vocalists Sára Kaliášová, Marta Balážová and Erika Nováková.   
The final honoring of the memory of the Romani victims will involve public figures who will symbolically read names from the book of the deceased. ROMEA TV will broadcast the event live online. 
"The suffering of the Romani nation under Nazism is still unknown to the majority here. It is not discussed, it is not included in textbooks, and for that reason it is as if it never happened. I think it is the task of my generation to make sure the victims of that horrible injustice are properly honored and that the Porajmos, the Holocaust of the Roma, be discussed with the same, justified seriousness as that enjoyed by other victims in this context," says David Tišer, director of ARA ART, the organization holding the event, who added:  "Unfortunately, the time has not yet come when honoring the Romani victims of any tragedy would be considered a regular aspect of the life of the public in this society. For that reason, we consider Leperiben and our other activities to be quite important." 
The format of the evening was first introduced in 2016 at festival in Banská Bystrica, Slovakia called Ľudia z rodu Rómov (People from the Romani Family) which, after many years, is being held exactly on the day when we commemorate the Holocaust and its Romani victims. Leperiben has been held annually in Prague since 2019.   
Those who promised to attend this evening's ceremony include:
Romani figures:
Karel Karika, vice-mayor of Ústí nad Labem and winner of the František Kriegl Prize
Renáta Adamová, member of the Chomutov municipal assembly, chair of its Committee for National Minorities and its Social Commission
Robert Gabriš, fine artist and winner of the Jindřich Chalupecký Prize 
Dana Hrušková, social worker for the Prague 14 Municipal Department
Non-Romani figures:
Yechiel Bar-Chaim, independent consultant to Bader Philanthropies of Milwaukee, Wisconsin, USA 
Anna Polívková, actor
Jan Červenka, head of the Romani Studies Seminar, Department of Central European Studies, Faculty of Arts, Charles University in Prague 
Kateřina Saparová, vice-chair of Prague Pride
Tomáš Kraus, Secretary of the Federation of Jewish Communities in the Czech Republic
hor, ryz, translated by Gwendolyn Albert